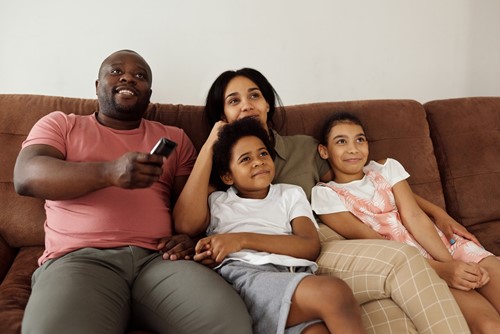 In the quest for entertainment optimization, many homeowners are turning to multipurpose media room ideas to add extra functionality. How can you design a perfect media room to fit the individual needs of everyone in the home?
While it might seem complicated, there are some simple ways you can set up your media room to give it optimal flexibility and functionality. Here are some great media room ideas to get you started:
Create multi-level lighting
Multiple levels of lighting are a key component of all interior design, and especially important in a media room. While watching movies, TV and playing video games on a large flat screen television all require ambient lighting to reduce screen glare, other media room activities might need something different.
For example, playing tabletop games with cards and other small pieces requires task lighting for extra visibility at any time of day or night. Accent lighting is also helpful for creating atmosphere and showing off your favorite media room decor like movie posters, figurines or collectables.
Making sure you have easily adjustable lighting of various levels will keep your space flexible for all types of media enjoyment.
Choose versatile furniture
The best media rooms have comfortable but functional furniture. When creating a multipurpose media room, you also want your furniture to be easily configured to meet your needs.
Sectional sofas are a smart alternative to movie theater seating, since they also allow for comfortable handheld or console gaming. Consider cushioned folding chairs for your tabletop setup, so you can make extra room or seat more players instantly.
Providing plenty of surface space for food, drinks and media components also aids functionality and enjoyment. Have a corner side table or small coffee table available to every seat, so your entire household can benefit from the convenience.
Having a dedicated media room or home theater room is a major goal for many homeowners. However, to provide the most flexibility and cater to your entire household's entertainment needs, these ideas for multipurpose media rooms are sure to help you find the perfect balance.