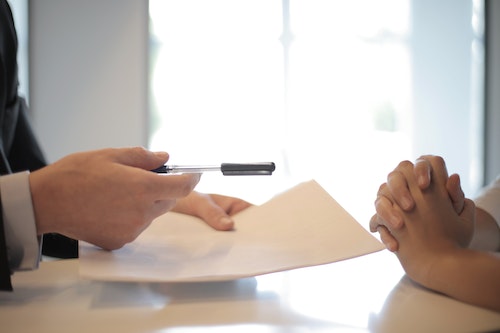 A land contract is a great way for sellers to increase their number of potential buyers. It gives individuals the opportunity to own a home even if they aren't able to get traditional financing.
What is a land contract?
A land contract is an agreement between a buyer and seller that typically doesn't need traditional financing, such as a mortgage. The seller of the property gets paid in increments over a certain period of time, versus getting the complete payment like they would if the property was purchased in hard cash or with a mortgage loan. Both parties must sign the agreement.
The buyer benefits from looser requirements with a land contract agreement over regular financing methods. However, some legal protections may not be present in this type of agreement. Hiring a real estate attorney is highly recommended to assist in drawing up a land contract, ensuring a successful and transparent transaction.
The process of land contracts
Once the contract is drawn up and signed by both parties, an equitable title is given to the buyer. This will block the seller from selling the property to another party or taking out loans borrowed against the property. The legal title will be possessed by the seller until the property is paid off by the buyer.
What are the advantages of a land contract?
There are numerous advantages of selling a house on contract. Many people do not qualify for a traditional mortgage. The opportunity to own a home through a land contract will attract a larger audience of potential buyers.
Selling on contract will also allow for sellers to collect interest. Depending on the interest rate you set, in addition to the principal payment amount, you can make a great profit.
Land contract interest rates & drawbacks
A buyer who relies solely on a land contract may find their options for properties on the market are limited. They may also find the interest rates of the properties available to them are higher than traditional mortgage rates.
Sellers may also be put in a vulnerable position if the buyer fails to make payments. For defaults on contractual payments, taking the case to court and completing the trial may take up to a year or longer, plus legal fees.
Historically, land contracts have been very beneficial for sellers. However, sellers do need to be aware that this option may attract buyers with poor credit.
Buyers typically find the process moves quicker to obtain a home, but are put at the risk of losing the property if the seller enters bankruptcy or passes.
A land contract can be an incredible option for those with unusual financial circumstances. If you're curious about land contracts, chat with your real estate agent. They'll have an in-depth understanding of financing available, monthly payment ideas the buyer pays to the seller and other niche components of land contracts.